On hold adapters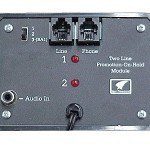 Don't have a phone system?  No Problem!
Want to use Please Hold messages but don't have a phone system? We have the solution!
We offer a wide range of on hold message adapters that allow an easy way to connect a message and music source to your non-system phones.
If your business uses basic non-system telephones such as RCA, AT&T, GE, Panasonic or even cordless phones, you'll see that these types of "non-system" phones do not have an audio input for MOH(Message On Hold) like most office phone systems. So, if you would like to add custom on hold messages with music, then you'll need an adapter.
The most common type of on hold adapter is a "star" activated message on hold adapter, like the one pictured above.
This on hold adapter connects directly to the telephone lines and can be used by all of the phones on its lines, so you can place someone on hold on one phone and pick them up on a different phone without hassle. This unit provides excellent audio quality for connection to any audio source through an industry standard RCA audio jack; from inexpensive CD players, MP3 players,  to the latest digital on hold message playback units, you won't be disappointed. The fact is, the BA-704-2 on hold adapter unit is much better than most any other telephone Music On Hold adapters currently on the market, short of buying an expensive telephone KEY or PBX  system.